When:
June 21, 2023 @ 10:00 am – 5:00 pm
2023-06-21T10:00:00-04:00
2023-06-21T17:00:00-04:00
Where:
Sainte-Marie among the Hurons
16164 Highway 12 East
Midland
Contact:
Mikaela Lefaive
(705) 427-2564
National Indigenous Peoples' Day 2023
National Indigenous Peoples Day is a national celebration of the heritage, diverse cultures, and outstanding achievements of First Nations, Inuit, and Métis throughout Canada.
About National Indigenous Peoples' Day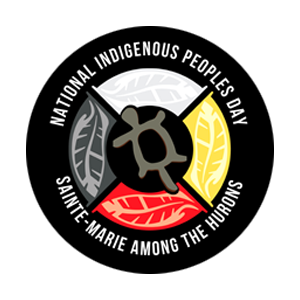 Huronia Historical Parks is proud to be a part of highlighting the achievements of Indigenous peoples through our education-focused celebration each year. For generations, many Indigenous communities have celebrated their culture and heritage on or near this day due to the significance of the summer solstice as the longest day of the year. It has been a nationally-recognized day since 1996.
All-day activities include
Lacrosse Speed Net Challenge
Survival in the Bush wilderness training
Indigenous crafts and games
Cornhusk figure workshop
Tasting three-sisters soup
Interactive giant treaties map
Discovery Harbour Métis display
Georgian Bay Islands National Park Info Booth
Timed activities include:
Opening Ceremonies at 10:30 a.m.
Ashunyung Singers at 11 am, noon, 1:30 pm, 2:30 pm and 3:30 pm
Hand Drum performances at 10:30 am, 11:30 am, 12:30 pm, 2 pm, 3 pm and 4 pm
Waterway demonstration at 11 am and 1 pm
Legends in the Longhouse at 11:30 am, 1:30 pm, and 3:30 pm
Lacrosse demonstration at noon, 2 pm, and 3:30 pm
Tickets:
$14 tax included for general admission
Children five and under are free
First Nations, Métis, and Inuit people eligible for free admission with a valid ID