When:
July 27, 2023 @ 7:30 pm
2023-07-27T19:30:00-04:00
2023-07-27T19:45:00-04:00
Where:
Midland Cultural Centre - Rotary Hall
333 King St. Midland
ON L4R 3M7
Sponsored by Brampton Brick – Part of '23 Canadian Singer-Songwriter Series
JUNO award-winning Singer-Songwriter, Catherine MacLellan, live at the Midland Cultural Centre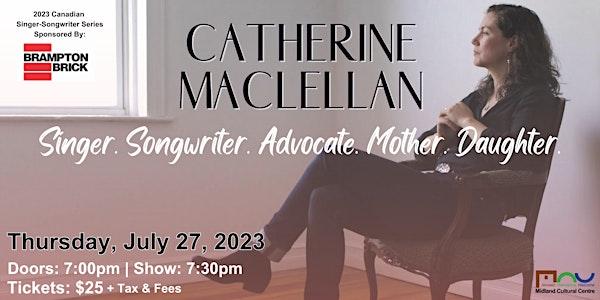 Catherine MacLellan is a Juno Award-winning singer-songwriter and one of Canadian folk music's true gems. She has also been recognized with multiple East Coast Music Awards, Canadian Folk Music Awards, and Music PEI Awards.
Catherine MacLellan, is a musician's musician, respected by her peers since releasing Dark Dream Midnight, her first solo album, in 2004. As with many performers, Catherine feels most at home on stage. That moment of connection is what matters most.
"Perhaps we don't have the same story but we all share the same emotions and many of the same experiences. Being able to share my songs and stories with people and finding that connection point is what it's all about for me"
Going to a Catherine MacLellan show feels much like catching up with an old friend, having those long-heartfelt conversations that mean so much.
Sponsored by Brampton Brick as part of the 2023 Canadian Singer-Songwriter Series.