When:
June 20, 2023 @ 7:30 pm
2023-06-20T19:30:00-04:00
2023-06-20T19:45:00-04:00
Where:
Midland Cultural Centre - Rotary Hall
333 King St. Midland
ON L4R 3M7
Join host Dr. Jim Young for an exclusive chat with the man that has brought A Day in the Life to our community for over 11 years.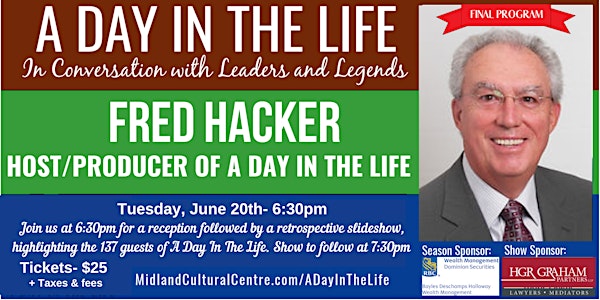 For the past 11 seasons, Fred Hacker has been the host and community producer of A Day in the Life at the MCC.
On this final program, we turn the tables and Fred becomes the guest and will be interviewed by Dr. Jim Young.
Fred was born in Midland and studied political science at McMaster University and law at the University of Toronto. He practiced law in Midland for 40 years. During that time, he was involved with many community organizations and activities including the Midland Cultural Centre, Knox Presbyterian Church, the Midland Rotary Club, charities, and fundraising. Fred was also active in politics and served on the national executive of a political party.
Since retiring from law 10 years ago, Fred served as founding chair/president of the Midland Cultural Centre, studied theology at a seminary, was founding chair of the Cultural Alliance in the Heart of Georgian Bay and is the chair/president of Life4Kids, a charity that supports a home for abandoned and homeless boys in Nairobi Kenya.
Fred has been married to Barb for almost 54 years and they have three daughters and four grandchildren, all of whom live in Midland.
6:30pm- Reception
7:30pm- Show
Season Sponsor: Bayles Deschamps & Holloway Wealth Management
Show Sponsor: HGR Partners LLP.