When:
November 3, 2023 @ 7:30 pm
2023-11-03T19:30:00-04:00
2023-11-03T19:45:00-04:00
Where:
Midland Cultural Centre - Rotary Hall
333 King St. Midland
ON L4R 3M7
Based on an incredible true story of love, sacrifice, and the Great War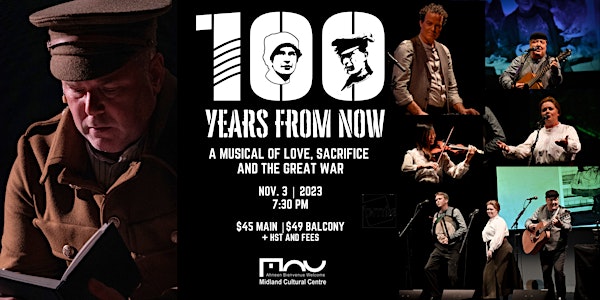 Two brothers and the women they love recount their triumphs and tragedies in the years surrounding the First World War.
Based on the inspiring life of Ontario's Mae Belle Sampson, one of the first women to enlist in the Canadian Army Medical Corp., 100 Years From Now tells the story of Canada's coming of age in the Great War.
Uplifting, humorous, and emotional, 100 Years from Now combines an original folk music score by the Shipyard Kitchen Party band with dramatic storytelling and stunning archival imagery, taking audiences on a musical journey from Georgian Bay to Vimy Ridge and beyond.
Audience Reviews
* "Stellar! Anyone who saw it will remember forever!"
* "Sold out and received standing ovations and encores at each performance!"
* " An emotional story… should be performed and shared as much as possible!"
* "The attendees raved about the energy and informative nature of the show! A truly engaging artistic performance."